Whether your visitors come to your website from Google's search engine results, social networks or pay-per-click ads, if they are unable to grasp what your site is about in under four seconds…you won't stand a great chance of getting them to buy from you.
As we know that first impressions matter and a successful combination of powerful images, clear copy, simple navigation and a clean design can all greatly influence whether a visitor will stay or leave!
Because your visitors are all busy people with lots of important things to do. They don't have time to hang around and scroll down, browse through your site to figure out what your site is about and how they'll benefit from it.
Your visitors need to know in the blink of an eye if:
Your website is the one they hoped to get to
The content of the page matches what they saw in the ad/ Google search result/ social media post
It's clear what your business does
If this isn't obvious right away, and if they can't quickly see that you have what they want, they'll move right to your competitors.
The four second test is that important.
To pass this test you want to make it crystal clear to your visitors where they are and what you have to offer. So, how can you pass the four-second test?
Start by looking at your homepage and see if you can answer these vital questions:
What is this website about? – Is this made obvious by your website name, logo or tagline?
What can I do here? – What products or services do you provide?
Why should I care? – What's in it for me?
What I am supposed to do first? – Is the primary call-to-action clear and enticing?
Can I trust this website? – Does the site look professional?
The idea is to grab visitors' attention within seconds so they will want to stay on your site and find out more about what you have to offer.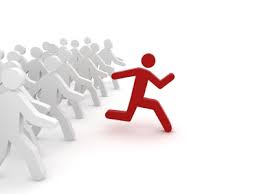 So, when should you run the test?
After a website redesign. It's a good way to find out if your new design and copy are effective at communicating your message.
When you're weighing the benefits of a complete redesign versus making a few changes to improve your website.
When the bounce rate of your web page is high. A bounce occurs when someone visits your website, views a single page, and leaves. This can help you figure out whether it's the design or the copy (or both?) that's missing the mark.
When click throughs from a page are very low. Users arrive on that page but they don't click on your call-to-action button.
How to run a four-second test
One of the difficult things about optimising your website is the fact that visitors don't tell you why they leave within seconds of arriving on your site. Maybe your headline didn't work for them, or maybe they just hated your design or images.
That's where a four-second test can help as you can get a ton of insight into what is and isn't working on a specific page. UsabilityHub is a popular tool for this!
So how do you pass the four-second test with flying colours?
Here are a few areas to focus on:
Tagline
A tagline is a catchphrase that accompanies your business name and it's meant to define and differentiate your core brand message. Use it to clearly spell out exactly what it is you have to offer to your visitors.
Headline
On the average, four times as many people read the headline as read the body copy.
A clear goal
Every page on your site needs to have a clear objective. Do you want to sell a product or a service, get users to watch a video or to give you a call? Whatever it is, make sure your copy and design work together to support this goal.
Summary
With less than four seconds to impress your visitors, it's imperative that you make what you do crystal clear.
Hopefully this short guide will help you run your own tests with ease so you can determine the effectiveness and clarity of your website and improve where necessary.